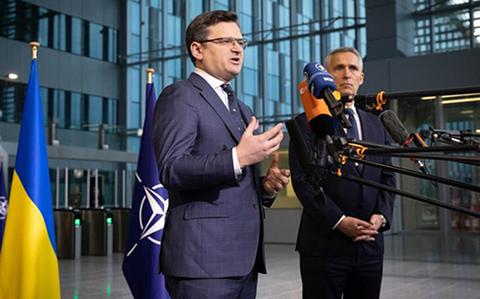 Ukrainian Foreign Minister Dmytro Kuleba arrived at NATO headquarters on Thursday with three items on his agenda to shore up his country's defenses against a full-scale invasion from Russia.
"These are guns, guns, guns," Kuleba said in Brussels, where allies are gathered for emergency meetings.
US Secretary of State Antony Blinken and his counterparts were due to discuss how to get more weapons into Ukraine as the war, which began on February 24, enters a new phase.
"I think Ukraine's proposed deal is fair," Kuleba said. "You give us weapons. We sacrifice our lives. And the war is contained in Ukraine.
NATO Secretary General Jens Stoltenberg has warned that the recent withdrawal of forces from Moscow around the Ukrainian capital of Kyiv marks a change in strategy rather than a de-escalation.
Now Russian forces are resupplying and regrouping in Belarus. After failing to capture kyiv, Russia is expected to refocus on eastern Ukraine, aiming to establish a land bridge between the region known as Donbass and occupied Crimea.
Kuleba said Ukrainian forces can resist, but only if they are better armed. Stoltenberg said he was confident Thursday that allies are ready to do more.
"I am sure that we will meet the need for more air defense systems, anti-tank weapons, lighter but also heavier weapons and many different types of support for Ukraine," said Stoltenberg, flanked by Kuleba at NATO Headquarters.
The Allies were also to discuss additional sanctions against Moscow in response to allegations that Russian forces have targeted civilians and committed war crimes in previously occupied areas.
Since the start of the Russian-Ukrainian war, the United States has pledged $1.7 billion worth of weapons and other items to support Ukrainian forces.
Javelin anti-tank systems and Stinger missiles are among the weapons supplied by the United States. Others are to be delivered, including Switchblade tactical drones and Puma drones for surveillance.
Many other allies also sent weapons. Yet Ukraine says some NATO members, Germany in particular, have been too cautious and slow to deliver weapons.
"While Berlin has time, Kyiv doesn't," Kuleba said.
He thanked Germany for reversing its previous stance of not supplying lethal weapons to his country following the Russian invasion, but he said Berlin was still too restrictive on what it was ready for. to send.
"It is clear that Germany can do more given its reserves and capacity," Kuleba said.
He called on the allies to "put aside their hesitations" and added: "Because, strange as it may seem, weapons today serve the purpose of peace. »