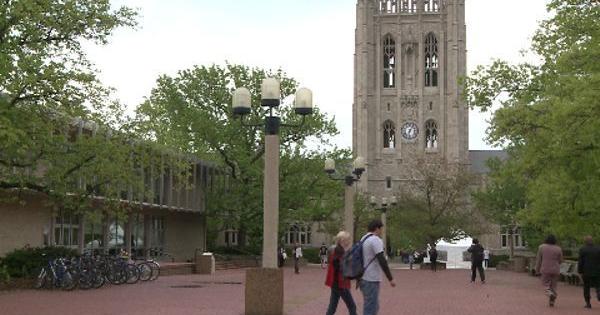 COLOMBIA — Elected UM faculty representatives formally objected to proposed changes to paid vacations for employees in the UM system at a meeting Thursday. The Faculty Council voted 18 to 2 with three abstentions.
The vote comes as the UM system board is due to vote on the proposed changes next Wednesday. On Monday, dozens of people protested the proposal at a rally organized by Labor Local 955, which represents MU employees.
In June, the UM system's board of curators proposed overhauling the paid leave system for faculty and staff by allowing employees to take parental and care leave, which is not currently available.
However, the changes would also eliminate up to 10 days off, angering some MU employees.
Board members have repeatedly expressed concerns that the changes would drive UM employees away from jobs with better benefits and scare away potential hires.
"It seems to a lot of people I've spoken to that now is not the right time to make being a staff member at Mizzou less attractive," said board member Chuck Munter.
"It puts even more stress and pressure on their [MU employees] ability to get the kind of stability they need," said board member Penny Smith-Parris. "These are tough economic times and we don't want to lose these important support people we rely on so deeply.
The Faculty Council also discussed a survey asking UM professors to judge Mun Choi's work as president of the UM system.
According to council member Graham McCaulley, one of the key takeaways from the survey "was a sense of [faculty] not be listened to."
Choi, who is president of the UM system and chancellor of MU, said in a written statement that he had reviewed the survey results and wanted to hear from more faculty members.
"After reviewing the results, I'm interested in finding ways for my firm and I to gather more constructive feedback on a variety of topics from a broader group of faculty," he said.
UM System Board Chairman Darryl Chatman voiced his support for Choi.
"While there is always room for improvement and constructive criticism is a valuable tool in this process, the Board of Trustees fully endorses President Choi's hard work and tireless dedication to the University of Missouri which have led to significant achievements in research, student success, and engagement. We will continue to work with President Choi and the faculty for the continued advancement of the University," Chatman said.
Thursday's meeting was scheduled to be held in person, but was moved online due to "campus space requirements," according to the Faculty Council's website.
The UM System Board of Directors will meet next Wednesday to vote on proposed changes to the PTO.