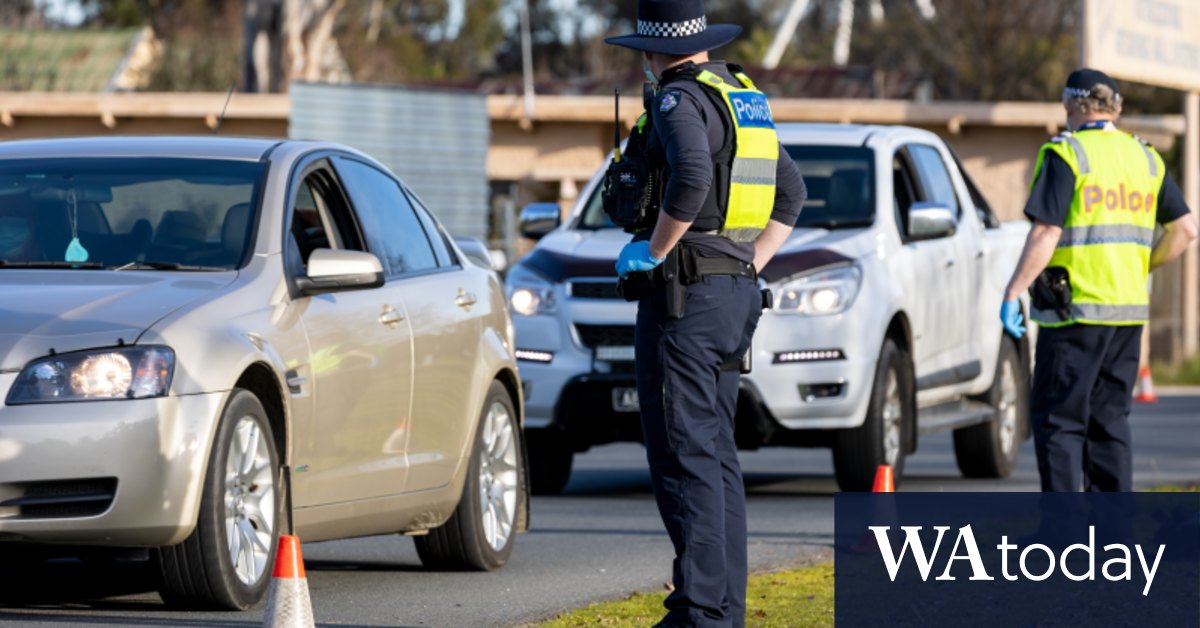 "I am told that one of the young people who attended this party is in intensive care."
Disability and Aging Minister Luke Donnellan said nearly a quarter of Victoria's 1,638 new COVID-19 cases were in their 20s as he announced a campaign to vaccinate people People with Disabilities.
Vaccination rates for the disabled population in Victoria are still lower than those for the general state population, although as of September 30, more than 71% of Victorian NDIS participants over the age of 16 had received their first dose of a COVID-19 vaccine against the national rate of 67 percent.
Ten pop-up vaccination centers will be set up in key areas of local government concern and funding of $ 5 million will also cover 16 additional officers for the Disability Liaison Officer program to help organize home vaccination, group bookings and counseling.
"We are going to go where we have to [and] keep pushing, harassing and getting nonstop [this] vaccination rates for our community living with a disability, "said Mr. Donnellan. "It's just not acceptable where it is right now.
"We can't open up when we have disabled, vulnerable people if they don't have a higher immunization rate, and that's what we're trying to do today. "
Martin, a travel writer who became quadriplegic 10 years ago after an accident, said it was "everyone's social and moral obligation to get vaccinated."
He said he relied on professional support workers who had many other high-risk clients and would think it would be irresponsible of them not to get the vaccine.
"I would be devastated to think I was part of a chain of transmission that led to someone else who was in a high risk category to be hospitalized or, worse yet, to die. I could never live with myself if that was the case, "said Martin. "So I think everyone has a real moral duty, and people with disabilities in particular have an imperative to be vaccinated."
More than 36,672 Victorians rolled up their sleeves to receive a dose of a COVID-19 vaccine on Wednesday, while more than 77,238 test results were processed.
Victoria's acting chief health officer Ben Cowie said Thursday's 1,638 new coronavirus cases include:
In the northern suburbs of Melbourne, 566 cases;
In the western suburbs, 485;
In the south-eastern suburbs, 351 cases;
In the eastern suburbs, 114 cases;
In Victoria region, 115 cases, including 11 in Shepparton, eight in Ballarat, 16 in Geelong, 17 in Mitchell, 11 in Mount Alexander, four in Mildura, 15 in Latrobe and 11 in Baw Baw;
Seven other cases elsewhere.
Professor Cowie said there were now more than 6,500 cases in the northern suburbs of Melbourne, representing about 43% of the state's active cases. Transmission of COVID-19 has also occurred in 10 Victorian slaughterhouses or butcher shops in just over a week, and more than 30 active cases have so far been linked to the sites.
Loading
Professor Cowie also defended the Moderna vaccine following a hiatus in its use among young people by Sweden and Denmark.
The data underlying those decisions had yet to be released, and the Therapeutic Goods Administration and the Australian Immunization Technical Advisory Group would work on any possible implications, he said.
"It is a bit premature to draw a conclusion on these decisions," said Professor Cowie. "What I would say is certainly from the experience of the United States, to my knowledge, there has not been an increase over, for example, the Pfizer vaccine in these side effects in the American experience that has been reported to date.
"These side effects are incredibly rare. If we look at the incidence of myocarditis or inflammation around the heart – most of which are actually quite mild and set in within days with simple management – the incidence of this was around one in 30. 000. "It's much more likely. [you will] actually get this side effect if you get COVID-19. "
Loading
There are 707 active cases of COVID-19 outside of metropolitan Melbourne, but the majority of them were linked to existing cases. In the past seven days, Victoria has had around 10,000 new cases of COVID-19 and Professor Cowie said of those cases 79% were unvaccinated. Only 15 percent were partially vaccinated and 7 percent were fully vaccinated.
Mr Donnellan said there were 564 people hospitalized in Victoria with COVID-19, and of those, 115 are in intensive care. Seventy-four are on ventilators.
As of Wednesday, 66% of people hospitalized with COVID-19 in the state were unvaccinated, 27% were partially vaccinated and 7% fully vaccinated.
As of 11.59pm on Wednesday, the locked areas of NSW and ACT were demoted from 'extreme risk areas' to 'red areas' under Victoria's travel permit system.
Only Victorians are eligible for red zone permits. Downgrading means they no longer need to be fully vaccinated to return to the state, and they don't have to test negative within 72 hours before entering.
They should still quarantine themselves for 14 days at home upon arrival and get tested twice throughout their quarantine period.
Loading
The old red zones – parts of regional NSW and ACT that are not on lockdown – became "orange zones" at 11:59 pm.
This means that residents and non-residents of Victoria in these areas can enter the state with an Amber Zone Travel Permit.
The permit requires them to self-isolate upon arrival, get tested for COVID-19 within 72 hours, and remain isolated until they return a negative test result.
Childhood cancer patients and their families woke up in quarantine Thursday morning after part of the Royal Melbourne Children's Hospital was declared a level 1 coronavirus exposure site.
Children receiving treatment in the Kookaburra Cancer Department and their parents have been told that they must self-isolate for 14 days in their child's hospital room, or at home if they need to go out, after the oncology unit was considered a level 1 exposure site.
Hospital executive director Bernadette McDonald said a relative who remained in the cancer ward tested positive for the virus.
With Melissa Cunningham and Timna Jacks
Stay informed of the most crucial developments related to the pandemic with the coronavirus update. Sign up to receive the weekly newsletter.