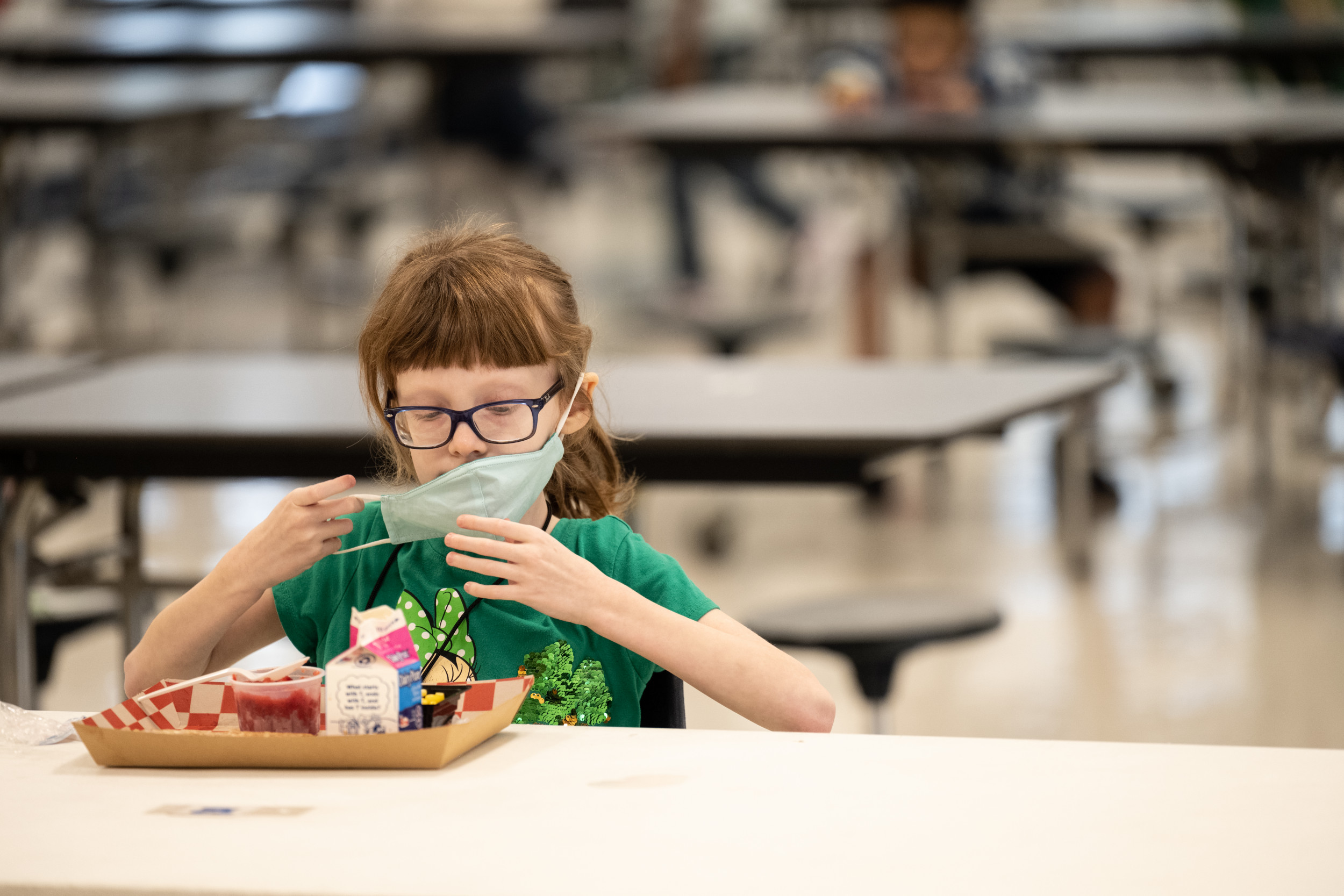 Two Florida school districts are requiring students to wear masks to school, directly defying Gov. Ron DeSantis' executive order.
Alachua County Public Schools (ACPS) in Gainsville and Duval County Public Schools (DCPS) in Jacksonville on Tuesday evening announced mask warrants for students, teachers and staff.
Alachua schools voted to temporarily mandate masks throughout the district for the first two weeks of class. The school board will reassess and assess the need for masking on August 17.
"In light of the dramatic increase in local COVID cases and hospitalizations, including among children, the school board voted to require masks for students during the first two weeks of school," Alachua Schools tweeted .
The mask mandate for teaching staff and faculty will be in place until at least September 17, according to a letter sent to Alachua employees.
"I wish we could all move on from COVID. But until the rates drop, I have an obligation to do what I can to protect the health and well-being of our CAVID community,†wrote ACPS Superintendent Carlee Simon. "Although some options are not available to school districts, masking is something we can all do to protect ourselves, our colleagues and our own families, as well as students and their families."
A parade of parents and teachers gathered outside the Duval school district headquarters with signs and chants to ask the school board to issue a mask warrant, according to the Florida Times-Union.
A school board meeting later that evening lasted over four hours in Duval County and resulted in a mask warrant – with a catch. Duval schools will allow parents to remove their children from the mask requirement.
"Any student not wearing a mask under this policy must, through their parent or guardian, follow the withdrawal procedures provided by the school assigned to them," says the official language.
The red tape warning is an attempt to comply with an executive order issued by the governor while giving community members and parents what they want.
DeSantis issued an executive order on Friday banning public schools from forcing children to wear masks. A number of districts were considering making masks mandatory in light of new guidelines from the Centers for Disease Control and Prevention (CDC) which recommended that all children wear masks to school.
Broward County Public Schools in Fort Lauderdale rescinded their mask mandate after the executive order was issued.
The executive order was issued to ensure that schools "do not violate the right of parents under Florida law to make decisions about the health care of their minor children," according to the executive order. Districts that do not comply may have their public funding withdrawn.
"Even if a school board adopts a 'mask mandate', it will not be able to apply it, because the choice will be up to parents whether their children wear masks or not," said Christina Pushaw, the press secretary from the governor, to Florida Politics on Tuesday.
News week has contacted DeSantis for comment, but has not had a response at time of posting.