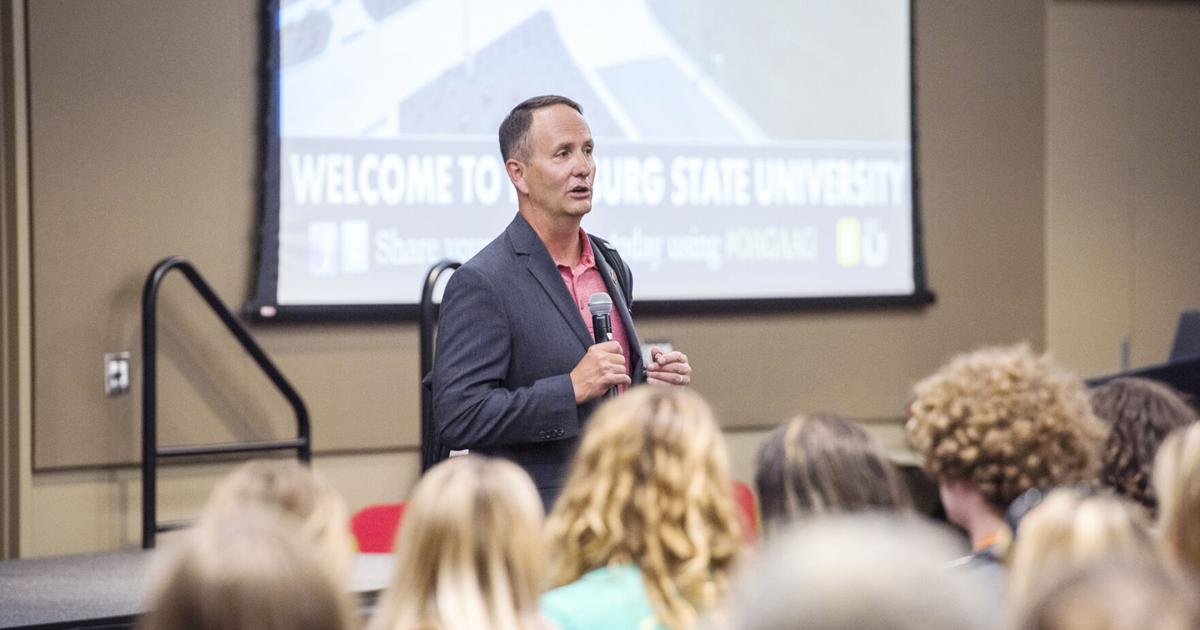 PITTSBURG, Kan. – What does a new university president do on his first day on the job?
If you're Daniel Shipp, you spend the first day greeting about 150 incoming students at freshman orientation. After all, you're all in this together and brand new to campus.
"For me, I'm the new person on the block, so I have a lot to learn and a lot of people to meet," he said.
Shipp's first day as president of Pittsburg State University was Monday, just two months after he was publicly announced as a candidate to succeed longtime president Steve Scott, who retired .
In media interviews Monday afternoon, Shipp said his priority in the first few weeks will be getting to know PSU through the eyes of faculty, staff, students and others who support the campus. There will be no shortage of opportunities, if Monday's encounter with the Pitt CARES freshman group was any indication.
"There are a lot of encounters with individuals," he said. "University work continues throughout the summer. Many professors are here, and we have a summer school, and our staff and our leaders and everyone (is here) in preparation mode for the next fall."
Learning about his new environment will be facilitated by the establishment of a transitional counseling period this summer, during which community and campus leaders will work with Shipp to help him understand the southeastern part of the Kansas, "about the things we should be proud of and the things we should work on," he said.
In fact, Shipp is particularly excited about community learning, as the city's relationship with the university is part of what drew him to the role in the first place.
"I think it's really one of the most unique places in the country where the university and the community really share a concern and an interest in what the other is doing and how they can work together to improve the region" , he said, adding that his priority will be to add to that momentum.
But perhaps Shipp's biggest priority for Pittsburg State centers on student success.
Across the higher education landscape, students enroll in degree programs but fail to complete due to other hurdles, or they graduate but with massive debt. Many students graduate with transcripts that "represent excellent learning in a specific discipline or program," but they lack skills such as collaboration, leadership, and critical thinking that are also needed in the marketplace. work, Shipp said.
"What we want to add to that, and I think the challenge in higher education, is what are those skills and abilities in addition to that transcript that you carry with you that will allow you to make a contribution positive to society? he said. "We assume they'll understand once they're gone, but I think we need to be much more intentional to instill value in this learning environment."
Shipp said his responsibility as president will be to ensure students are given as many opportunities as possible to connect what they learn inside the classroom with the world around them inside. outside the classroom. As more first-generation students enroll in college, that goal will become more important, he said.
"We need to be explicit and intentional about how to help them develop as whole people," he said. "It's happening here (at PSU). I think my job is to make sure it happens for all of our students."