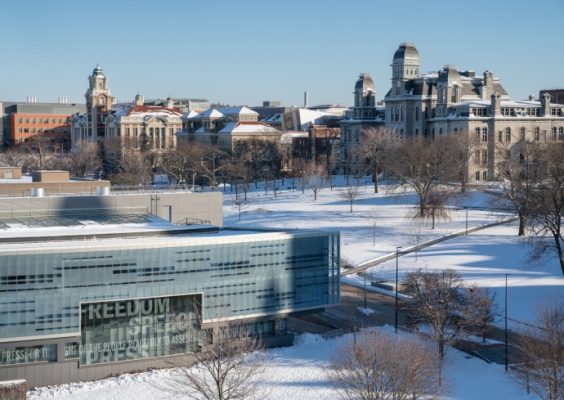 In 2018, the University Senate adopted Six Shared Competencies, a set of integrative learning goals that apply across the University. The goal is to help students connect what they study in their courses and majors to useful skill sets for future employers and graduate programs. Students can use the skills to track their personal and professional development and tell their own story.
In order to make this process transparent, professors throughout the University add tags to each course. Students will be able to use these tags to work with their advisors and choose courses within their major requirements to support these learning objectives.
"Requests for course labels are pouring in, the Senate Ad Hoc Committee on Shared Skills is reviewing them and we are sending out the approvals!" Despite the pandemic, Syracuse University is on track to integrate shared skills into the online course catalog and MySlice course registration beginning in 2023," says Anne Mosher, Provost Faculty Fellow and Associate Professor of Geography and Environment at the Maxwell School of Citizenship and Public Affairs.
"Undergraduate faculty at each school and college began this work in the fall 2021 semester to show students the connection between individual coursework and shared skills," says Mosher. "Course tags are simply labels that indicate that at least 30% of a course's grade relates to a specific skill. A label means that students will have the chance to practice and get useful feedback on the work related to the skills they are doing in class. »
Course tags at every school and college help students connect the dots between what they're learning in different classes so they can see how they're acquiring the skills needed to be successful after graduation, Mosher says.
"All of this makes Shared Skills Course Beacons a key strategy to ensure the University brings transparency to undergraduate teaching that allows each student to navigate their experience and make the most of it," she says.
Faculty can mark courses with at least one and up to three of the shared competencies.
"We have a responsibility to demonstrate that we provide a learning experience that is worth the time, effort and overall investment that students put into it," says Maureen Thompson, associate professor of public health at Falk College and member of the Committee. ad hoc of the Senate on shared competences.
William Robert, an associate professor of religion at the College of Arts and Sciences and an early adopter of course markers, agrees.
"We can be more transparent about what we do in class. We don't just throw a bunch of content at our students. There is a certain set of skills and a set of methodological practices that underpin the way we deliver content," says Robert. "These shared learning goals help students see what they are learning more concretely in a practical way, so they can connect to the world they live in."
Although labeling nearly 3,000 courses over a two-and-a-half-year period may seem daunting, the University has provided resources for faculty, including a course labeling toolkit, work sessions in person and on Zoom, a presentation video and professional development. series.
Both Thompson and Robert say that the course labeling process helps them be better teachers and have a clear idea of ​​how to achieve course objectives. Through this process, faculty are exposed to different ways of approaching material and sharing ideas about how to relate what they teach to what students need to learn to achieve their career aspirations.
"Course labeling forced me to articulate in clear, accessible language what I actually do in the course and how I do it. I have to write it down; I think that makes me a better teacher," says Robert. "When I walk into the classroom, I see exactly how it's going in the course, based on the particular shared competency, like communication skills or ethics, integrity and commitment to diversity and inclusion."
Professors who participate in course labeling find that it pays positive dividends for just a little work.
"In my department, we have an evaluation committee that has decided to use a team approach where we pair faculty members with another faculty member who has done the professional development on course labeling . It is a coaching model and provides someone to engage with and help teachers think through issues such as how and when they give feedback to students, how different parts of an assignment fit together. interweave, how they can address hot topics within the structure of the overall course," says Thompson, who recently received label endorsements for several public health courses.
"Teachers come back after reviewing their programs together and tell us they know their course is better after a structured session by thinking about what their course covers, appropriate markers, and how students can link activities to skills they learn," says Thompson.
"Other institutions, like Stanford, Harvard, University of North Carolina, have found that integrative learning approaches like the one we take with shared skills help students know what to expect in a course. , to connect what they learn and how they learn throughout their courses, while simultaneously meeting their requirements," says Mosher.
"As part of the Teaching and Learning in Higher Education scholarship, there is growing evidence that students learn best when they not only know what they are expected to do in a class, but also why they do it," says Mosher. "It not only helps them better understand their journey through Syracuse, but also allows them to tell their story at Syracuse University in a way that really showcases the skills they've learned in their courses, majors, extracurriculars and extracurriculars. This is something that potential employers and graduate schools appreciate.
Thompson says understanding this aspect of shared skills helps boost student engagement.
"In the past, we recommended that public health students take a course in statistics as part of their math class, because our accrediting body wants you to take a course in statistics. Marking this same course as teaching science and research skills opens the door to a discussion of how the foundations of an introductory statistics course will help you interpret data to recommend a health intervention. public or understand the epidemiology," says Thompson. "It's not about ticking a box, but about showing how courses can be grouped into building blocks."
Robert says, "I have a rule in my classes that anyone can raise their hand at any time to ask why we're doing what we're doing. Then we stop and we as a class will articulate a response.
"I need to be able to tell students why we are doing the activity, how it relates to other activities, the skill set it develops and how it will help them succeed. Then suddenly what seemed opaque activity becomes clear. Even if they don't like the reason we're doing it, they know there is one and can appreciate the method and logic behind it. This helps to make teaching more transparent.
To ensure that a course's tags will appear in the 2023-2024 Course Catalog and in MySlice for Fall 2023 enrollment, course tag requests must be submitted to the Senate Ad Hoc Committee through the Office of Institutional Effectiveness and Evaluation by September 1, 2022. .