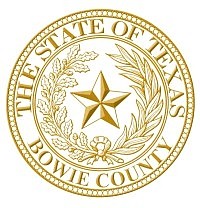 NEW BOSTON, Texas — Approval of Levee board renewals and the resale of tax-delinquent assets are among the items on the county commissioners' court agenda by Bowie.
The commissioners will consider reappointing Steve Ledwell, Bob Hubbard and Stan Griffin to the Levee board. The council works on flood protection and stormwater management throughout the county.
Court members will also consider allowing County Judge Bobby Howell to sign a $6,888 service agreement with Garratt-Callahan Co. to provide a water treatment chemical program for the county.
In other cases, the court will consider approving the resale of four tax-delinquent properties — three in Texarkana and one in New Boston. The four properties have a total value of $1,250, according to county records.
Commissioners will also consider —
• publicity for tenders for road maintenance materials in the four road districts of the county; and
• Grant the county clerk's office permission to hire Dallas-based indexing firm Kofile to evaluate and perform daily indexing of county records software to improve document retrieval.
The meeting is at 9 a.m. on the second floor of the county courthouse.