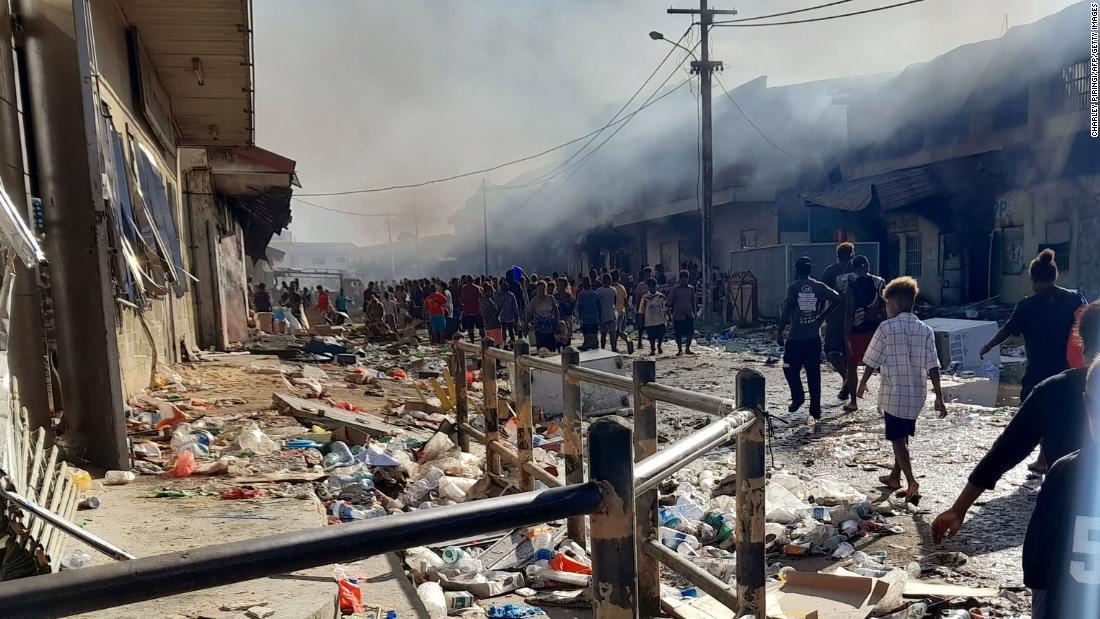 Honiara, the capital of the Solomon Islands, has been affected by civil unrest since Wednesday, with protests, looting and burning of shops and businesses. Defying a 36-hour curfew, thousands of protesters took to the streets to demand the resignation of Prime Minister Manasseh Sogavare.
A spokesperson for the Royal Solomon Islands Police (RSIPF) told CNN by telephone on Friday that fire trucks had been dispatched to the Sogavare residence as a precaution and that protesters had left Chinatown in the city, where violence was previously concentrated.
The central government on Friday advised all officials to stay at home due to the unrest, except essential workers, and urged staff to make sure they have food supplies "due to the uncertainty of the current situation ". On Thursday, a local reporter said fires were blazing in Chinatown and police had lost control in eastern Honiara.
Prime Minister Sogavare refused to give in to the demands of the demonstrators, declaring in a public speech published Thursday in local media: "If I am removed from my post as Prime Minister, it will be on the floor of the Parliament".
Many protesters came from neighboring Malaita province – home to the country's most populous island – to express their discontent with Sogavare's government and its handling of a range of domestic issues, including a lack of development and unfulfilled infrastructure promises.
"The events illustrate the sense of exclusion of many from development in Honiara and Guadalcanal that stems from the corporate-dominated retail, mining, logging and construction sector. and workers in Asia, "said Anouk Ride, aid, development, conflict and social inclusion researcher, writing on the Lowy Institute's The Interpreter website.
Prime Minister Sogavare, however, accused unnamed foreign powers of having encouraged the unrest, according to an interview with the Australian Broadcasting Cooperation.
Malaita province opposed the Solomons' central government decision in 2019 to sever diplomatic relations with Taiwan and establish a formal relationship with China.
"I feel sorry for my people in Malaita because they are fed false and deliberate lies about change," Sogavare reportedly said.
"Those same countries that are now influencing Malaita are the countries that do not want ties with the People's Republic of China and they are discouraging the Solomon Islands from forging diplomatic relations and complying with international law and the UN resolution.
China said it was "gravely concerned" over what it called attacks on Chinese citizens and businesses in Honiara on Thursday. Chinese Foreign Ministry spokesman Zhao Lijian said the authorities "have called on the local government to take all necessary measures to protect the safety of Chinese nationals and institutions."
"We are confident that under the leadership of Prime Minister Manasseh Sogavare, the government of the Solomon Islands will soon be able to restore social order and stability," Zhao said.
Solomon Islands was one of a handful of countries that had diplomatic ties with the democratic autonomous island of Taiwan, but in 2019, the archipelago swapped allegiances to China. Beijing regards Taiwan as part of China and refuses to have diplomatic relations with any nation that does not recognize its "one-China policy."
Zhao stressed that the one-China policy "is a basic standard governing international relations" and that since Solomon Islands established diplomatic relations with China, "bilateral relations have enjoyed solid development with results. successful".
"All attempts to disrupt the normal development of China-Solomon Islands relations are simply in vain," he said.
Additional reporting by Pauline Lockwood of CNN and Reuters.