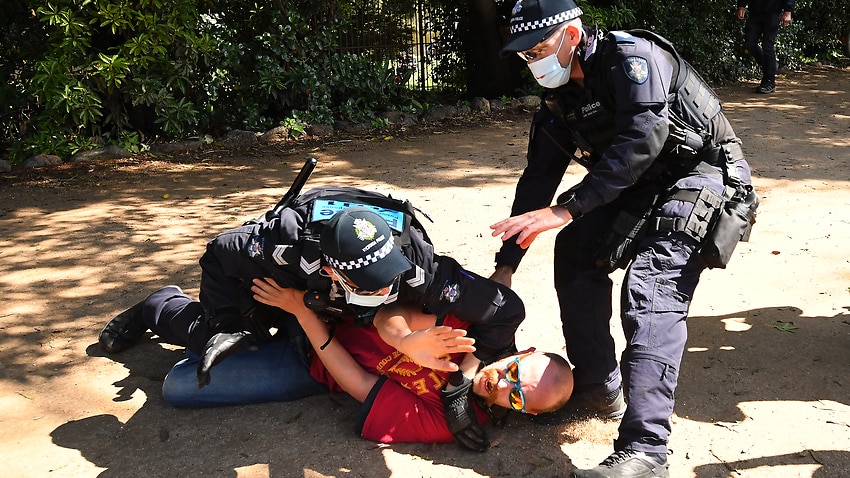 The group marched past the National Gallery of Victoria and ABC headquarters in Melbourne, blocking roads and local traffic.
Initially greeted with minimal police presence, officers and mounted police began approaching the group just after 1:30 p.m., dividing them into small groups, before beginning to make arrests.
By 2 p.m., much of the anti-lock crowd had dispersed into the parks.
The demonstrators were dispersed. Organizers are telling protesters to "ditch the botanical gardens" and take a lunch break while awaiting "instructions" on whether to continue or stop. pic.twitter.com/BXscXX3VO8
The rally follows yesterday's announcement that as of October 15, Victorians working in occupations on the Authorized Worker List must have received at least one dose of vaccine – unless they have 'an exemption.
The list of occupations includes emergency services, personal trainers, wedding officiants, journalists and media workers, retail workers operating click and collect services, and members of the public service performing essential jobs, including politicians.
Protesters are seen at a protest in Melbourne on Saturday October 2, 2021. (AAP Image / James Ross) NO ARCHIVE Source: PAA
---
The protest coincides with the day of the highest number of cases in Victoria, blamed in part on illegal social gatherings over the past weekend.
In the past 24 hours, 1,488 cases have been recorded and two deaths.
Victoria sets new record with 1,488 local COVID-19 cases and two deaths
---
Asked about today's protest by reporters, COVID-19 commander Jeroen Weimar expressed frustration with their actions.
"Why? Really, I mean, we understand. We understand that people are frustrated, we understand that we are upset. You don't help yourself, you don't help anyone," he said.
"At best, you run the risk of generating more transmission. At worst, you know you are creating, that you are fueling a bonfire, which is already on fire. I just think it's a really unnecessary thing to do.
Today's protests appear to be the largest since protesters occupied the Shrine of Remembrance for hours on Wednesday, September 22.
This rally was interrupted by Victoria police with tear gas and rubber bullets.