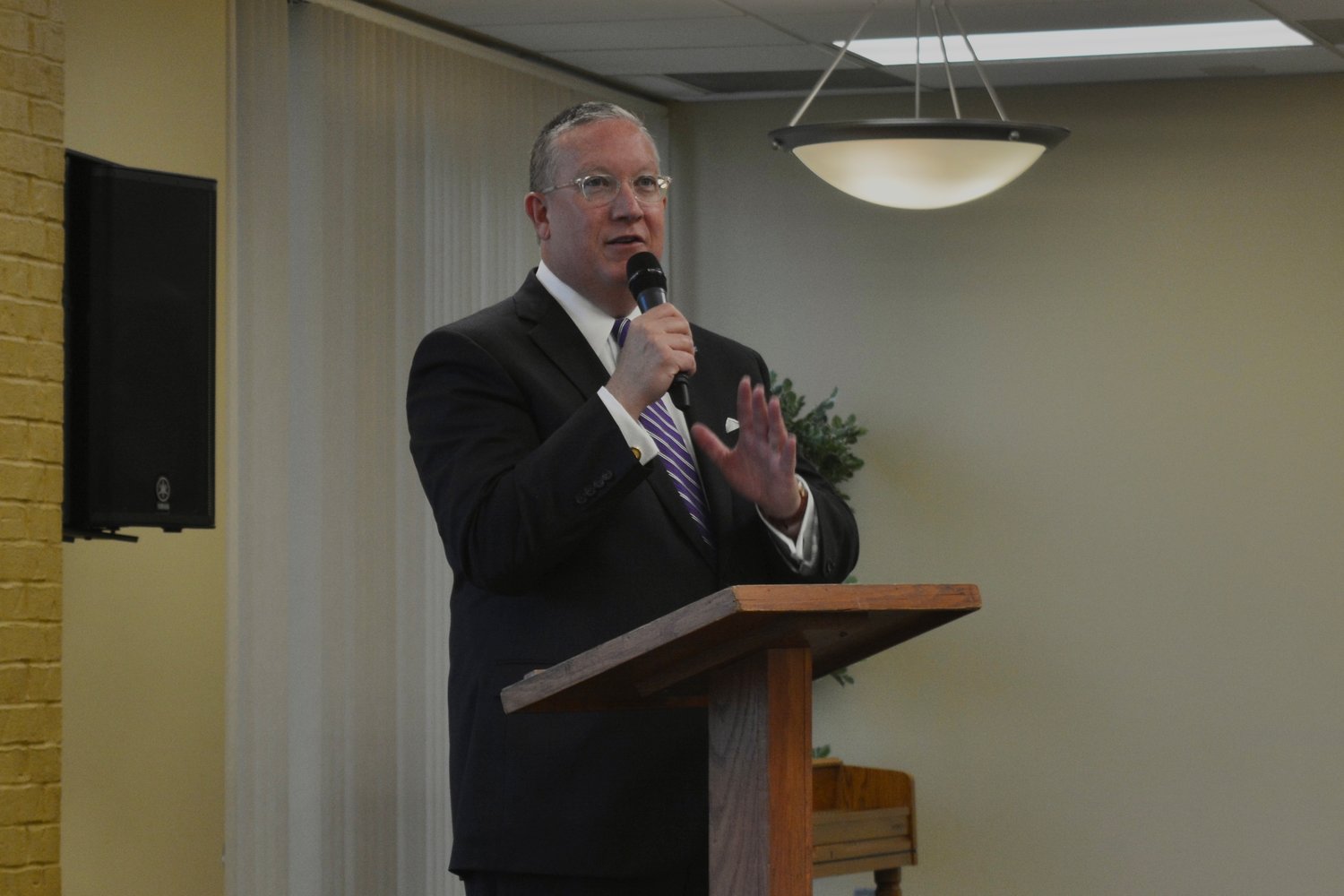 Southwest Baptist University 26th President Richard Melson briefed the community on his new position at the President's Breakfast on Friday, September 24.
"I started Sept. 7 and really started running,†Melson said.
A significant portion of her first few weeks on the job was spent learning college, at a time struggling with a national dilemma of higher education.
"Higher education is going through difficult times, difficult times,†he said. "This is true for SBU."
COVID-19, he said, has been a "complicating variable†impacting the dilemma.
"This has exacerbated many of the challenges higher education has faced literally for decades," he said. "These are not new things."
One of the major issues facing institutions in the United States is declining enrollment rates, Melson said.
In fact, he said there were universities across the country that failed to meet their enrollment targets, staying flat.
When asked to provide registration data for SBU, Director of Marketing and Communications Charlotte Marsch declined, saying the university would not release the information until its board meeting on Tuesday, October 19.
SBU's goal is to equip its students to serve and impact the world. Over the breakfast, Melson highlighted the SBU's range of majors – and its recent additions like cybersecurity management and agricultural programs – as a factor that helps the university.
For school programs that require state-level or national exams, the SBU's pass rates speak for themselves, he said.
Since SBU introduced its nursing program at the Bolivar campus, the last BSN group to take the National Council licensing exam has achieved a 100% pass rate, Melson said.
"It's amazing," he added. "This is our first class that has achieved a 100% pass rate,†which is well above the national average, he said.
"This means that we equip and prepare students not only for a Christ-centered education, but also for academic excellence," he said, "and the two can coexist."
Melson said some people assume that a Christ-centered institution won't focus on academics, but he said the university's results say otherwise.
He then mentioned SBU's physiotherapy program, which currently has a success rate of 97.3%.
Over the past six years, the SBU's pass rate on the Missouri elementary education certification exam has been 95%, he said.
In accounting, there was an 83% pass rate for the first time on the uniform chartered accountant exam, compared to the national average of 48%, he said.
Missouri Baptist Convention
Melson then spoke about the university's relationship with the Missouri Baptist Convention, a partnership he said he intends to continue and nurture.
As one of the entities of MBC, SBU is also "part of a larger Missouri Baptist organization," Melson said.
He said the university was enthusiastic and grateful for the "long-standing relationship".
Recently, SBU has seen struggles between its board and administration, faculty and staff, local laity and alumni, and the Missouri Baptist Convention.
In the past, there was speculation that the MBC was racing the SBU board, which in turn made tenure decisions that sparked an uproar from students, faculty and alumni.
Nonetheless, Melson said, the school has a great partnership with the MBC.
Melson said he was "a personal friend" to MBC executive director John Yeats.
"We will work closely with them,†he said. "We will be working with our SBU faculty… leadership… administrators… higher education commission†and the MBC to clarify the historical relationship.
Melson said he will speak at the MBC meeting in Branson on Monday, October 25, where convention officials and delegates will be in attendance. He said Matt Kimbrough, an SBU professor, will also deliver a sermon at the convention.
As SBU tackles its current and future challenges, Melson said the university will be transparent and open, looking forward to future opportunities.
"We have great people… programs… facilities and… students,†he said. "It's a great recipe for good things, and that's my goal. "
To close the meeting, he spoke of the strength found in working with the community and its leaders.
"We are stronger together, we are better together and we look forward to partnering with you," he concluded.