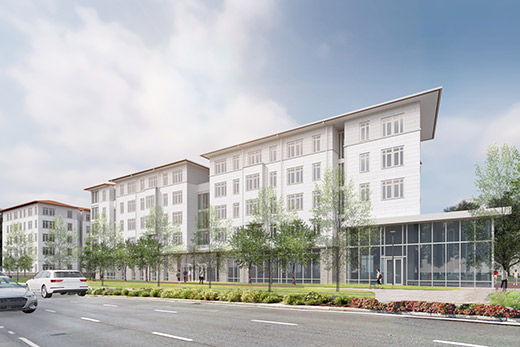 Emory University will build new housing for graduate and professional students, allowing them to live within a 15-minute walk of all graduate programs. The Graduate Student and Professional Housing Initiative will improve the student experience, provide competitively priced housing, and foster a stronger and more vibrant community for graduate students and professionals.
The project will be developed in two phases along Haygood Drive, North Decatur Road and Ridgewood Drive. Emory plans to launch the first phase in fall 2022, with student occupancy beginning in fall 2024. The second phase will begin after the first has ended and the entire project is expected to be completed by 2027 When complete, the project will increase Emory's capacity for housing availability for graduate students by providing 1,000 beds in a mix of micro-studios, studios, one-bedroom and two-bedroom units.
The project supports Emory's mission and strategic framework by promoting Emory as an academic community of choice, says Robin Morey, vice president and director of planning for Campus Services.
"This housing initiative addresses a key need identified as part of Emory's master planning process – the desire for graduate student and professional housing near the university's academic programs,†said Morey. "This project will make Emory more attractive to prospective students and enhance their experience by providing a dedicated space on campus for graduate and professional students."
In addition to providing more housing for graduate students, the design includes a Graduate Commons to support group and independent study, and the site will include a cafe and exercise room.
The project is developed based on feedback from graduate students, faculty and administrators. Graduate and professional students have said they want housing close to campus, according to the results of focus group sessions and a fall 2020 survey.
Emory chose the housing site to support students' preference for cycling or walking to campus. The university has worked with the PATH Foundation for several years on safe off-road multi-use trails around campus, including trails that connect the planned housing complex to schools, libraries and laboratories located in the heart of campus. The Cliff shuttle will also serve the site.
The project will include a structured parking lot with 275 spaces for students who wish to pay extra to park near their apartment or students can park in the existing Emory car parks on campus. However, since this site was chosen in response to student preference for a pedestrian lifestyle, it is expected that many students who came to campus would no longer need to drive.
Some apartments will be furnished and the mix of designs will allow students to choose accommodation based on their preferred size and cost.
Emory Master Planning will hold a town hall for students, faculty and staff on the housing initiative during the fall semester and will continue to provide updates as the project develops.