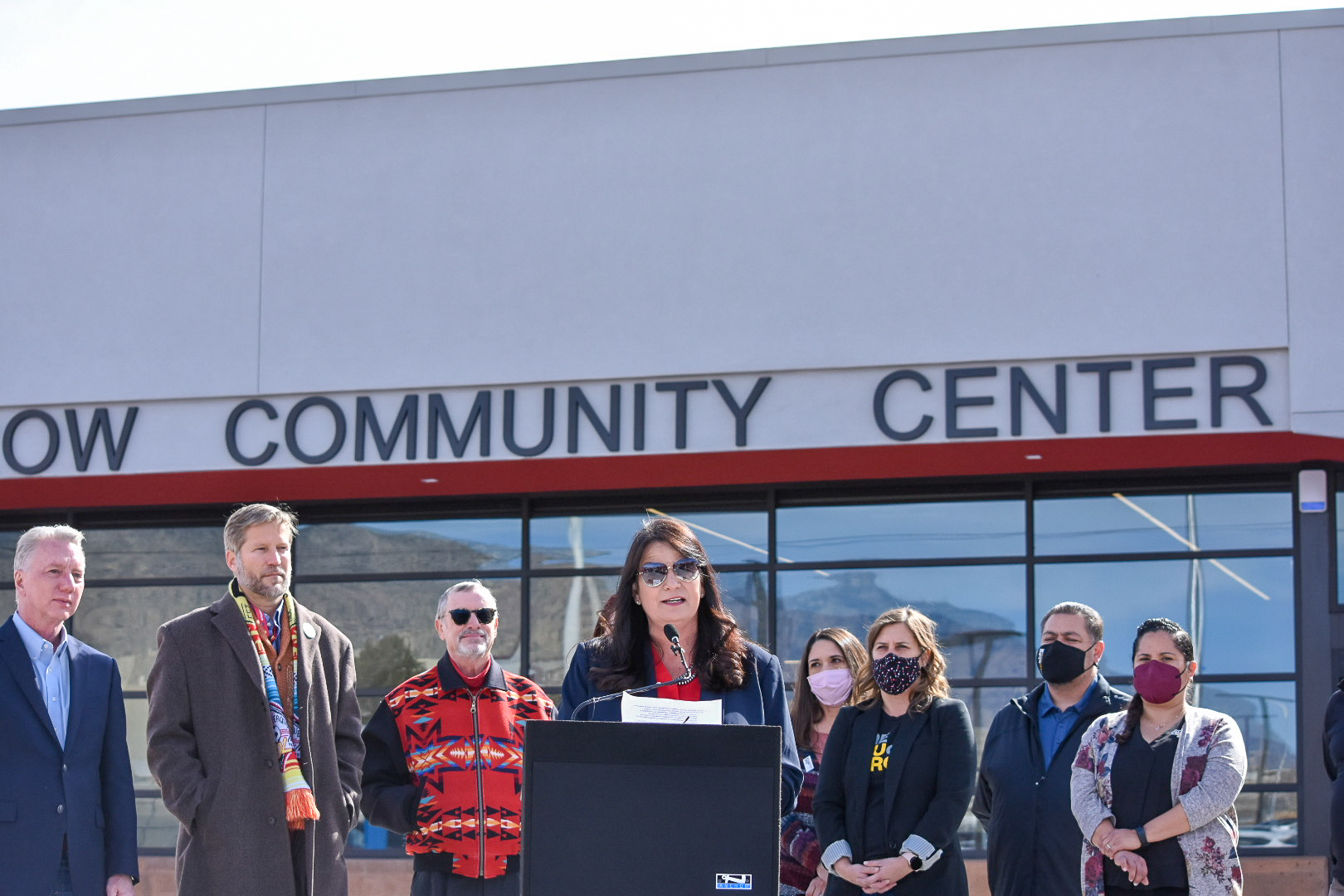 February 8, 2022
Press release from Mayor Tim Keller's office.
Today the city celebrated the completion and grand opening of the new Singing Arrow Community Center in southeast Albuquerque. The 15,000 square foot facility is open and offers programs for the entire community, including before and after school programs.
"What a winner of a project for the community, our city as a whole and Councilor Don Harris," said Mayor Tim Keller. "After a lot of hard work and community investment, today we are transforming the community center in this neighborhood from just three laptops into a brand new, first-class facility. We are thrilled to have this new space open as a hub for social gatherings, youth enrichment, resource connections, and a point of pride as this community continues to grow.
The new center has all the latest amenities needed to make this location a focal point for the community. The facility includes a fitness room, game room, multi-purpose rooms, computer lab, heated kitchen, and meeting space. This will give our youth, adults and seniors in the Southeast the opportunity to be healthy and engaged.
"This community center is now a hub near the Mideast that creates a sense of belonging for the Southeast community," said former District 9 Councilman Don Harris.
"This upgraded and expanded facility is a great addition to our neighborhood," said District 9 Councilwoman Renée Grout. "I can't wait to see families use it and enjoy it."
The City of Albuquerque Department of Family and Community Services will manage the new and old facility to accommodate before and after school programs, fitness and arts activities, and event programs in partnership with the local community. FCS did a lot of community outreach before and during construction to ensure collaborative programming for residents.
"We're really excited to have a more comprehensive community center in this beautiful location to really serve the needs of the community, with programs now for adults and youth," said Director of Family and Community Services, Carol Pierce. . "This area has such a rich cultural background, and this center is really meant to play to the assets and natural wonders of this part of Albuquerque."
The project cost approximately $5.6 million and was completed on budget and on time. Improvements also included work to pay homage to the Ranche De Carnue archaeological site, just south of the community centre, which includes self-guided educational tours.