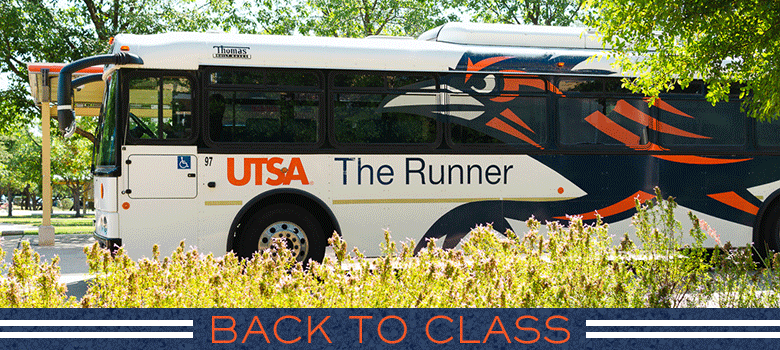 ---
Getting Around: Parking Permit, The Runner and VIA U-Pass
Those planning to park on campus will need a valid permit. A wide variety of permit options are available to suit various needs and budgets, including surface, garage, reserved garage, and evening-only permits. It's quick and easy to order a permit on MyParking. Allow five to seven days to receive it by mail. Convenient payment options include credit or debit, add-on tuition and fees (for students), and monthly payroll deductions (for faculty and staff).
To help Roadrunners know where to park, each parking permit has a list of valid parking areas for that type of permit printed on the back. Visit the Campus Services website for clear, color-coded parking maps that identify designated parking areas on each UTSA campus.
For those who don't come to campus often enough to warrant purchasing a parking permit, FastPass, a rechargeable parking pass for hourly parking in main campus garages, is an option worth considering. Another great hourly parking solution for casual campus runners is ParkMobile, which allows individuals to park in designated hourly parking zones across campus and pay the hourly parking rate from their phone. Parking time can also be extended from any location – no worries if a meeting or study session takes longer than expected.
UTSA's main campus transit system, The Runner, provides service to and from on-campus parking lots and some nearby apartment complexes. Track a shuttle's arrival time and view live bus maps and route schedules with The Runner GPS – download the free app from the App Store or Google Play.