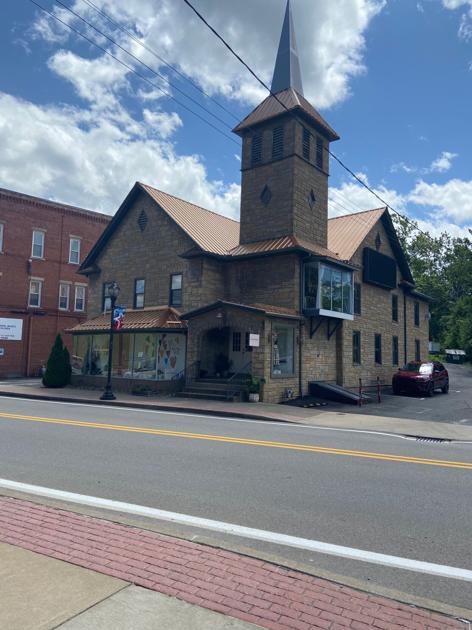 Babe & Honey, a craft market on West Main Street in Bridgeport, is home to over 20 small, women-owned businesses.
Founder and owner Casey Gorby said it was important for her to include local businesses that support women and the community at large.
"It just happened like that, honestly, and once it was done it was good to have a bunch of women supporting each other,†she said. "The hope is that we will continue to grow and that every woman here will continue to grow."
Gorby said the installation is a dedication to his grandmother who had a store in Nutter Fort in the late 1970s. The name "Babe & Honey" is a tribute to his grandparents, because it is so. that they were called.
"She did the same and had a little store,†Gorby said.
Gorby said being able to bring this business to the community and being received in a very positive way made it all feel like a dream come true.
"Everyone who comes in has introduced themselves, and every business on this street is really supportive,†Gorby said. "We've had a lot of traffic over the last month and kept quite busy. "
The market opened a month ago.
"It was all my thing, I wanted people to support local artists,†she said. "I wanted all the women to support each other too, so that we could work together."
One of the businesses in the market is Hippie's Daughter, owned by Elizabeth Elswick. Elswick said that having a space in the market has helped her develop into an area that is always very kind to her.
"It's fantastic, I love being able to set up my own space. It's so much more personal than just wholesaling at a store, â€Elswick said. "It was great being in the Bridgeport / Morgantown area because I'm not, plus I got to meet so many more business owners and buyers. It's really unbelievable.
According to Elswick, Hippie's Daughter is focused on making quality art and lifestyle products that bring smiles to consumers. While focusing on macrame products, it also offers macrame wall hangings, key chains, plant hangers and more. It also offers original artwork such as stickers, key chains, patches and more.
Another company is Appalachia Curated, owned by Jessie Owens. She and Curator Gorby have been friends for years.
"I grew up in a very small, fairly poor town in the Appalachian Mountains, so every time we had the extra money we would save up and buy some second-hand stuff,†Owens said. "I like vintage and different things. I've always been drawn to it, so this business is back to my roots.
Owens said she likes having something different that she can give people. She said she returns vintage and second-hand clothes that give customers the chance to get something that no one else has while taking care of the planet.
Hali Phares, the owner of C&H Expressions located in the market, said it was an opportunity to be part of the community and have room to grow.
"There will be so much more space here, and it's pretty amazing,†Phares said.
Her business is a bakery that offers personalized royal iced cookies that she hopes to expand to include cupcakes, cakes and other sweet treats.
"Now that I'm here with more space, I really plan to see my ability to grow,†Phares said. "I really hope to explore with all kinds of things."
Archi Thorne, owner of Sovereign Gypsy Handmade, said doing this labor of love in a space of his own is an incredible opportunity.
"I create my own designs for the rack, display cases and custom orders,†Thorne said. "It takes me about two days from the time I take the measurements. "
Thorne said she wanted to create something people can feel confident in and aren't afraid to express who they are.
"I'm going to do what I love, and that's success,†Thorne said.
Kelly Carey, owner of Mo Baby Handmade, said she started sewing "for my daughter, who has special needs. So a lot of clothes don't fit on her and I figured I would just start making her clothes that progressed from there.
Carey makes 5T newborn clothes from mostly organic materials that are suitable for all children.
Her daughter "is really the inspiration behind this business," said Carey. "Being able to be home and do them while supporting my family is great."
They are looking to host more events that include kids' classes, book clubs, social gatherings, art classes and more to bring the community together, according to Gorby.
"Most people say when they come, 'we needed this,' and so I really, more than anything, want it to be a place where women can come and meet,†Gorby said. "It feels good to know that there are people out there who are supporting and encouraging you."
Babe & Honey's summer hours are 11 a.m. to 4 p.m. Tuesdays, Wednesdays and Thursdays and 11 a.m. to 6 p.m. Fridays and Saturdays. The market is closed on Sunday and Monday.
They hope to extend their hours of operation and this information will be regularly updated on their Facebook and Instagram, Gorby said.
Babe & Honey sellers are Appalachia Curated, C&H Expressions, Mountain Mama Magick, Foxy Fonts, Parties & Peonies, Hippie's Daughter, Golden Rose Creations, Hilos Co., Eighteenth Avenue Boutique, Hawke Design Shop, Majuscule, Sigley's & Sawdust, Anthony Jean, Mo Baby Handmade, Quartzstone Studio Art, 310 Soap Co. deliberately created, HayCo Creations, Hilos Co. and Molly Pops.
In addition to handcrafted products, Babe & Honey also offers Sovereign Gypsy Handmade; Melissa Romano life coaching and yoga; Personalized jewelry Vittoria & Banks by Vicki Angotti; an on-site photography studio, Kailee Kroll Photography; and Roaming Roots Plant Shop.